---
The long transformation of a single raw image into the masterpiece up on your wall.
---
Hologramm-Certificate of Authenticity
Limited Editions of my prints come with a certificate of authenticity. This certificate guarantees the genuineness of my limited FineArt Prints on Hahnemühle papers. Additionally this prevents forgeries.
Each Certificate is made of high quality mould-made paper with a Hahnemühle watermark und fluorescent security fibres. The certificates are provided with consecutive numbered Holograms. A second identical Hologram is fixed at the backside of the limited FineArt Print.
This combination of corresponding numbered certificate of authenticity and Hologram guarantees that each certificate refers only to one distinct FineArt Print.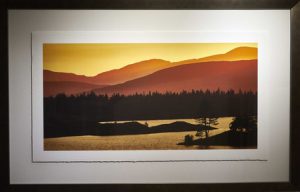 Each photograph will be FineArt-printed on mould-made paper from Hahnemühle. This paper is refined exclusively for Photograph Prints of highest quality, complying with the high German Archiving-Standards for Museums and Galleries. The fine and smooth surface structure of the aging resistant, alkaline buffered and acid-free paper,
together with selected high quality printing colours and other, carefully selected materials and auxiliaries guarantee a close to 100 years colour authenticity.
FineArt Prints go well with my special shadow-framing. The photographs will be printed with a 3–5 cm white edge around the picture, depending on the size of the picture. The edges will be torn by hand, which especially gives the landscape photographs a unique natural and soft character. This builds a basis that the print casts a soft shadow on its background and thus seems to hover among it.
Especially my landscape and nature related photographs are best presented with a special Shadow-Framing. The pictures with hand-torn 3–5 cm edge are fixed, elevated 5 mm from a white background. A 10 cm white border will be left around the image.
A selection of solid wood frames in the colours black and white are available. The width of the frame-profile will be chosen proportionally to the size of the picture between 2–4 cm.
The type of glass depends on your choice and on the size of the picture. Standard sizes of the photograph of up to 60 x 40 cm are available with acrylic glass, standard glass and anti-reflective museum-standard glass (99% anti-reflective). Due to weight matter, sizes above that standard size will be provided exclusively with acrylic glass.
My photographs are shipped worldwide unframed or framed to order in well protected packages.